Cold chambers
We have a long history of manufacturing cold chambers for the automotive industry. This long experience combined with quality customer service is widely known among car and component manufacturers worldwide. Today our cold chambers can be found in Australia, the United States, Canada and other countries. In Sweden, we have delivered 100's of modules, most of them used for car testing in Lappland. In a cold chamber, components and finished vehicles are tested under controlled temperature conditions, such as cold engine-starts after a certain time and temperature has been reached.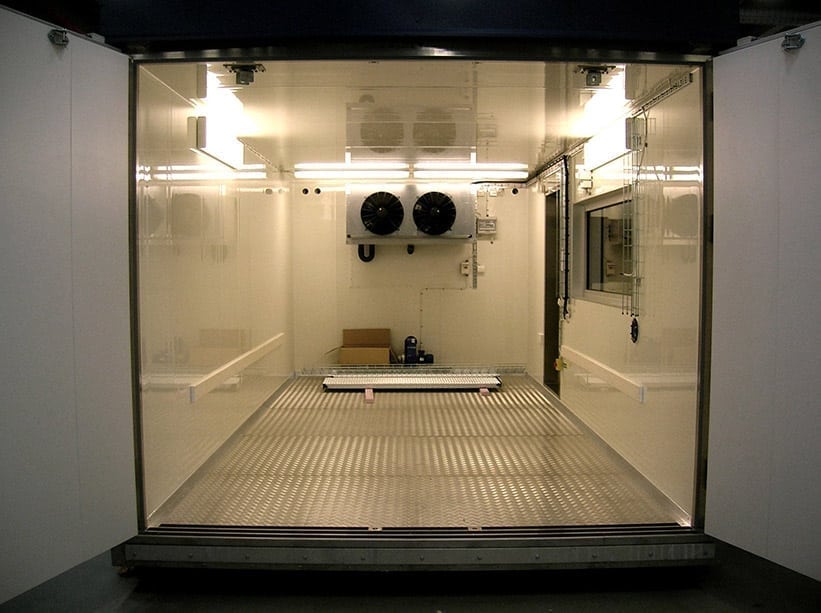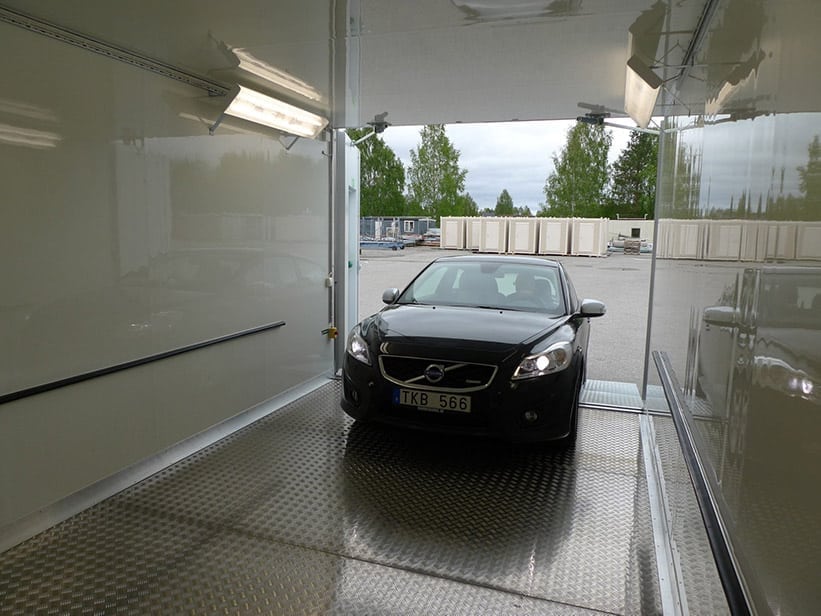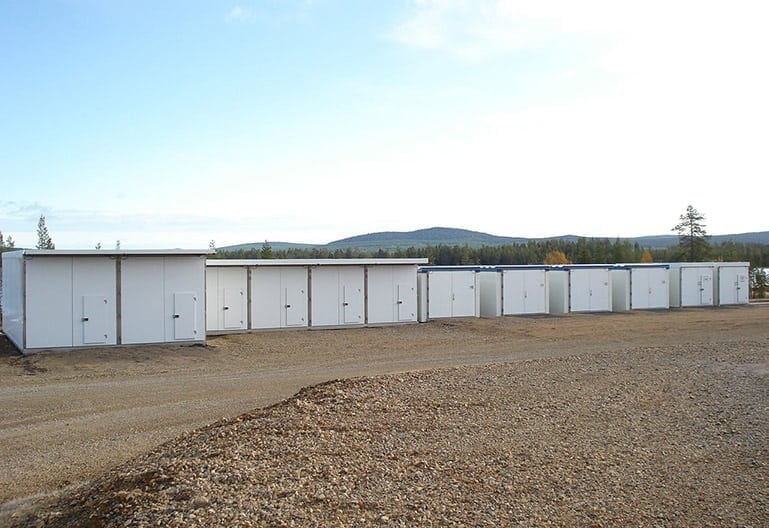 Design
Our cold chambers are usually built on a robust steel frame with a forklift tunnel and six adjustable footplates, all galvanized. The walls and roof are made of coated aluminum plates on the inside and outside. The walls are isolated with 150-millimeter (5,9 inches) EPS insulation. The floor also features sandwich construction with aluminum floor plates and high-quality birch plywood supported by glulam beams. Should you require something different we will find a solution for you.
Quality
Our modules, whether it is a telecom solution or a refrigeration chamber, are of the highest quality. With our technology, the walls are kept free from attack in the form of moisture damage. A module from the Box Module has an extremely long service life of any size.
Equipment
Our chambers can be built up to sizes large enough for most vehicles to drive into.
– Digital display on the outside for temperature reading
– Alarm on the inside and outside, battery backup with 24hour operational guarantee
– DAN-doors – dual port and single door
– Legs for assembly on site on any surface
– Door and port edge heating
– Complete cooling unit with evaporator, compressor, condenser and control equipment.
– Equipment for defrosting the cooling unit (time-control possible)
– Ramp included
These are only some of the standard features of our cold chambers. We will of course tailor the equipment to suit your needs.
Customization
We take pride in being able to offer you a broad range of solutions. We can guarantee that, in a close collaboration with you, we will construct and deliver the best possible solution. Based on our long history and experience with this product we will always be honest with our customers when certain requests could make the product quality decrease or if an added material, equipment or customized design would improve the product.
Thanks to a strong collaboration with research institutes and with assistance from several partners who are experts at their craft, we can customize our modules down to the last detail.
Our assurance
At Box Modul we work to achieve nothing less than perfection. We strive to be your first choice for modular solutions by delivering the absolute best quality cold chambers on the market. But you can't just make a great product if you want to be the best. That is why we take our customer service very seriously and choose our partners with care.